New research
iPS cells used to create the world's first model replicating muscular disease pathology
The U.S. online scientific journal PLOS ONE has published a paper by the research group of Hidetoshi Sakurai, lecturer in the Department of Clinical Application at CiRA, on their work to create a model that reproduces the pathological conditions of Miyoshi muscular dystrophy. Dr. Sakurai talked with us about his team's research findings.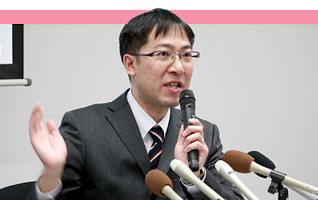 What are the characteristics of Miyoshi muscular dystrophy?
Muscular dystrophy is a progressive muscular degenerative disease in which the muscles gradually waste away as muscle cells degenerate and are destroyed. Miyoshi muscular dystrophy, which is one form of muscular dystrophy, was discovered in 1965. In 1998, it was established that the disease is caused by the dysferlin gene, which is present in the cellular membrane of muscle cells. It is thought that abnormalities in the dysferlin gene mean that, when the cellular membrane of the muscle cell is damaged, the membrane repair function does not work properly. At present, no radical therapy is available.
What are the difficulties involved in research into muscular degenerative disease?
So far, there have been attempts to generate muscle cells from pluripotent stem cells, i.e. ES cells and iPS cells, but there have been issues with low success rate and poor reproducibility. Although we may be able to take skin, blood, or other cells from patients and use them to produce iPS cells, unless we can overcome these two issues, it will be very difficult to get these cells to differentiate into muscle cells that can be used to reproduce the pathological conditions of the disease. We have therefore been working to find a method of generating muscle cells with good reproducibility.
Can you describe this latest research?
First, we were able to generate skeletal muscle cells with a success rate of around 90% by inducing the expression of the known transcription factor MyoD1 in human iPS cells. We then used this method to generate muscle cells from two iPS cell lines taken from a single Miyoshi muscular dystrophy patient and confirmed in vitro that the cells displayed the characteristic abnormality in the cellular membrane repair function. When skeletal muscle cells were generated under conditions of overexpression of the dysferlin which is deficient in patients with the disease, the abnormality in the cellular membrane repair function was mitigated.
What is the significance of this latest research?
Until now, there was no reliable method of inducing iPS cells to differentiate into skeletal muscle cells, so it was difficult to reproduce the pathology of muscular disease. The method we developed has allowed us to successfully replicate the pathology of Miyoshi muscular dystrophy in vitro. This is the world's first successful reproduction of the pathological conditions of muscular disease using iPS cells.
Looking ahead, we aim to develop this method for use in the screening of new drugs for Miyoshi muscular dystrophy. We also hope to use this method of inducing skeletal muscle cells to benefit research into other intractable muscular diseases, leading to the development of new therapies and the discovery of new drugs for many muscular diseases.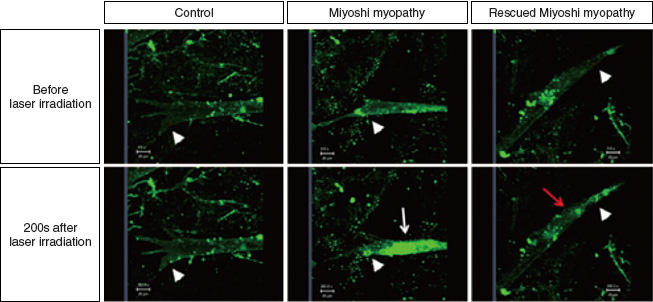 Fig. Miyoshi Myopathy by patient derived-human iPS cells
A hole was opened at one point on the membrane of skeletal muscle cells by laser irradiation(triangle).
As skeletal muscle cells derived from Miyoshi myopathy patients cannot repair the membrane of the cells, green fluorescent substance were introduced into the cells(white allow). In contrast, when the gene in Miyoshi myopathy iPS cells was over expressed, the membrane was repaired, which resulted in introducing less green fluorescent substance.