News and Events
News and Events
News
March 05, 2010
Establishment of the new Center for iPS Cell Research and Application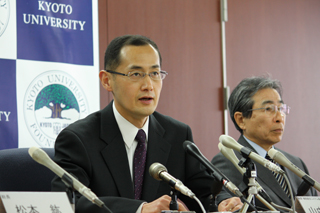 March 5, 2010 - Kyoto University (Prof. Hiroshi Matsumoto; University President) has determined that it will establish a Center for iPS Cell Research and Application (CiRA), effective April 1. The new center will be the 14th research institute associated with the university, and will be led by Prof. Shinya Yamanaka, the pioneer of iPS cell technology. Following the first report of human induced pluripotent stem cells by Prof. Yamanaka's team in November 2007, Kyoto University established on January 22, 2008, a center specializing in iPS cell research within the Institute for Integrated Cell-Material Sciences (iCeMS) as a national hub for research in this area. The center was named as the Center for iPS Cell Research and Application (CiRA), the same name as the new institute that will be established the next month.


In order for Japan to take fullest advantage of this new technology in drug discovery and regenerative medicine applications, the promotion of the seamless translation of fundamental research to preclinical and clinical applications will be of central importance. To meet these needs, the university appointed a launch committee in December of last year to consult on the founding principles, regulations, and faculty appointments for the new institute. On March 1, the Kyoto University executive board confirmed the set of regulations relating to the launch of the new institute, and formally approved the establishment of the new CiRA.

This formal recognition of CIRA as a university-affiliated institute facilitates many aspects of its operations, including the shoring up of faculty appointments and more secure research administration. Furthermore, in order to strengthen the research program and reorganize the programs of preclinical and clinical studies, a total of 18 research leaders will be appointed in the new CiRA. Support for fundamental research will continue through close, ongoing interactions with iCeMS. Educational contributions will be made possible by the acceptance of master's and doctoral degree students into CiRA departments in cooperation with Kyoto University graduate programs. The Research Strategy Division and the Support office will further be established to support the research divisions.

The new institute is supported through operational funds, research grants and donations from the private sector. In the 2010 fiscal year, CiRA will have approximately 120 academic, research and technical staff and a budget of around 2 billion yen. By fiscal 2012, CiRA is expected to grow to a staff of approximately 200, in keeping with the growth of this exciting field of research.
About the new CiRA
Name
Center for iPS Cell Research and Application, Kyoto University
Acronym: CiRA
Since
April 1, 2010
Director
iCeMS Professor Shinya Yamanaka
Deputy Directors
Center for iPS Cell Research and Application, Kyoto University
Program-Specific Professor Tatsutoshi Nakahata
Institute for Frontier Medical Sciences, Kyoto University
Professor Junya Toguchida
Address
53 Kawahara-cho, Shogoin, Sakyo-ku, Kyoto 606-8507, Japan.
Vision

To serve as the world-first core institute dedicated to leading iPS cell research.
To pursue the possibilities of iPS cells through both fundamental and applied research with the goal of contributing to the development of regenerative medicine.
To maintain close ties with Kyoto University's Institute for Integrated Cell-Material Sciences, Graduate School of Medicine, and University Hospital to promote research collaborations and the cultivation and exchange of young scientists.

Research Departments
Department of Reprogramming Science
- Elucidation of the molecular mechanisms that underlie reprogramming.
- Development of standardized optimal methods for iPS cell generation.

Department of Cell Growth and Differentiation
- Development of techniques for steering differentiation of pluripotent stem cells into various lineages.
- Evaluation of safety and efficacy in animal models.

Department of Clinical Applications
- Elucidation of pathology and drug discovery applications using patient-derived iPS cells.

Department of Regulatory Science
- Generation of clinical-grade iPS cells.
- Promotion of regulatory systems necessary for the clinical applications of iPS cells.
Research Support Offices
- Research Strategy Division Director: Prof. Hideya HAYASHI
- Support Office Director: TBA