News and Events
News and Events
News
June 18, 2010
CiRA Director Yamanaka to receive the 2010 Kyoto Prize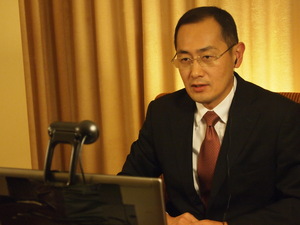 June 18, 2010 - The Inamori Foundation announced that Shinya Yamanaka, director of the Center for iPS Cell Research and Application (CiRA), Kyoto University, has been chosen to receive the 2010 Kyoto Prize for his generation of induced pluripotent stem cells (iPS cells).
Yamanaka was selected as the recipient of the prize's Advanced Technology category. In its Basic Sciences category, Dr. Laszlo Lavasz, a Hungaran/U.S. mathematician who serves as a professor at Eotvos Lorand University in Budapest, will be awarded the prize for his outstanding contributions to mathematical sciences, and in the Arts and Philosophy category, Mr. William Kentridge, a South African artist, will win the prize for his works integrating drawings with animation.
At a video conference connecting Yamanaka at a hotel in San Francisco with reporters in Kyoto, Yamanaka said it is a great honor for him to receive the Kyoto Prize, expressing his gratitude to those who have supported him.
``We are entering crutial stages to make iPS cell technology useful. With this announcement, I have renewed my determination to make utmost efforts to bring iPS cell technology to bed at an earliest possible stage,'' he said.
The Inamori Foundation created the Kyoto Prize in 1985 to honor those who have made tremendous contributions to scientific, cultural and spiritual betterment of mankind.
Inamori Foundation:http://www.inamori-f.or.jp/e_topics_100618.html