News and Events
News and Events
Home
 › 
News and Events
 › 
2013
 › Others › CiRA Director Shinya Yamanaka receives the title of the Honorary Citizen of Higashiosaka
News
July 09, 2013
CiRA Director Shinya Yamanaka receives the title of the Honorary Citizen of Higashiosaka
CiRA Director Shinya Yamanaka received the title of the Honorary Citizen of Higashiosaka from Higashiosaka Mayor Yoshikazu Noda during an award ceremony held at CiRA on July 1. He became the fourth honorary citizen of the city for the development of iPS cell technology.
Yamanaka grew up in the city with his older sister by the time when he became a fourth grader as his parents run a small factory there.
"I was grown up surrounded by the machines at my father's factory. He was an engineer rather than a businessman, who designed and made machinery parts by himself,'' Yamanaka said. "I also see myself an engineer as well as a scientist. I am determined to realize medical applications using iPS cell technology for patients."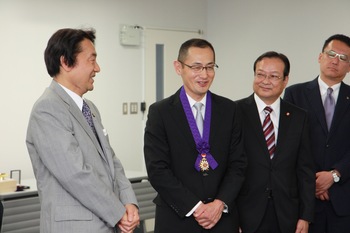 Dr.Yamanaka talks with Higashiosaka Mayor Yoshikazu Noda and two deputy mayors of the city.