News and Events
News and Events
News
February 03, 2020
The Second CiRA Encouragement Award
CiRA announced its second CiRA Encouragement Award on January 30th in recognition of CiRA scientists under the age of 40 years old who made remarkable achievements to the life sciences. Two scientists shared the award, which was financed by the iPS Cell Research Fund.

The recipients are Drs. Tsutomu Sawai (Visiting Researcher to the Uehiro Research Division for iPS Cell Ethics) and Shunsuke Kawai (Program-Specific Research Center Assistant Professor of the Department of Cell Growth and Differentiation).

Dr. Sawai published a paper in Cell Stem Cell in 2019, in which he precisely discussed amendments to the Japanese guidelines for specified embryos that allow the production of animals that have brain or gametes composed of human cells and the potential future ethical issues. He also published with the Jun Takahashi lab, which is conducting brain organoid research, a noteworthy paper in Stem Cell Reports.

Dr. Kawai developed a method to differentiate bone cells from human iPS cells in a short period of time. Applying these cells, he succeeded in recapitulating the pathology of osteogenesis-imperfecta in vitro using patient-derived iPS cells and confirming drug effects. He also built an innovative experimental system that visualizes the bone differentiation process in vitro. He published these achievements in Nature Biomedical Engineering as the first author and it was highly appraised.

In the award ceremony, CiRA Director Shinya Yamanaka praised the two scientists for their work. "Our iPS Cell Research Fund is used for education of young researchers. Respecting wishes of many donors, I hope all researchers in CiRA will continue to work for further successes and lead the field of life science research," he said.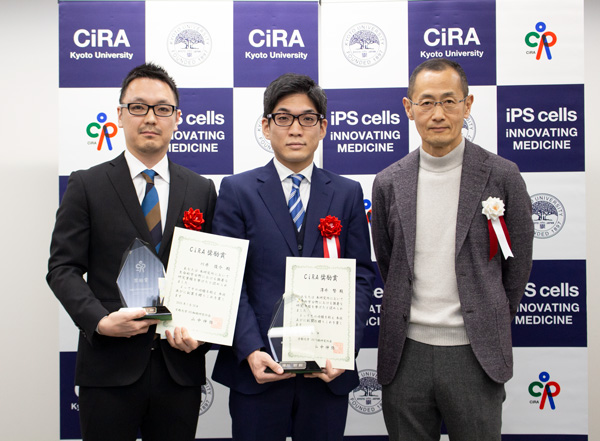 (From left)Shunsuke Kawai, Tsutomu Sawai and Shinya Yamanaka