News and Events
News and Events
News
April 01, 2020
CiRA celebrates its second decade
2020 brings CiRA to its second decade. Normally, at the beginning of the fiscal year (April 1), all members gather to hear some words from CiRA Director Shinya Yamanaka. However, this year, due to the coronavirus pandemic, Prof. Yamanaka gave his greetings through a web broadcast.

To celebrate the 10th anniversary, he began by holding birthday cake with 10 candles and sang "Happy Birthday."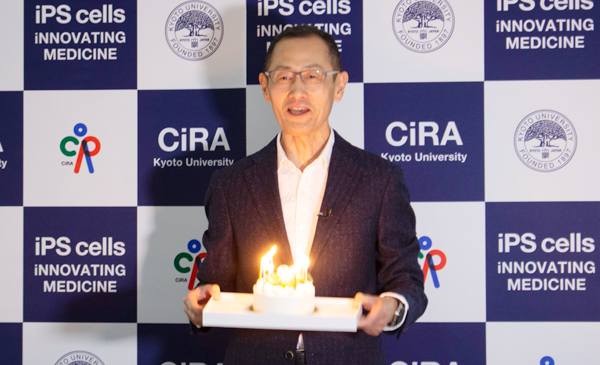 Prof. Yamanaka celebrating CiRA's 10th anniversary
with a birthday cake.
Director Shinya Yamanaka remarked on how the coronavirus has made research difficult, but staff continue to work hard and work together. He also commented on the CiRA Foundation, which officially started on the same day, reminding everyone that, "CiRA and the CiRA Foundation will work side by side to promote basic and clinical research of iPS cells."