News and Events
News and Events
News
May 10, 2010
The grand opening of the new CiRA building
May 8, 2010 - The Center for iPS Cell Research and Application (CiRA), Kyoto University, officially celebrated the opening of the new research building on May 8 with more than 200 guests and 60 journalists.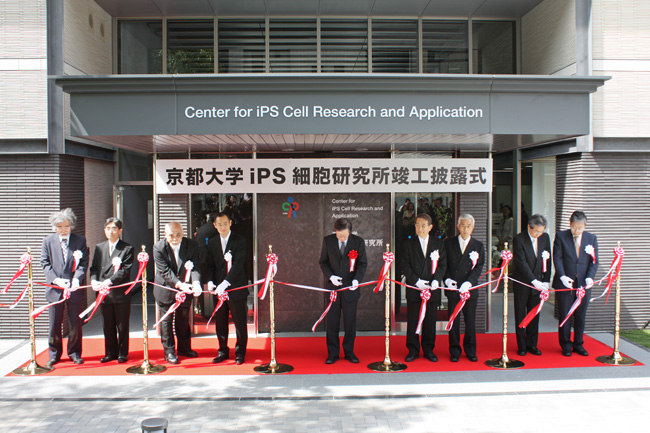 The ribbon cutting ceremony was held in front of the front entrance of the new CiRA building.
| | |
| --- | --- |
| Honorary quests attending the ceremonies included Nobel laureate Toshihide Masukawa, a professor at Kyoto Sangyo University, as well as Tatsuo Kawabata from the Ministry of Education, Culture, Sports, Science and Technology (MEXT). Some 20 people from 8 patient organizations also took part. The opening ceremonies received great media coverage in domestic newspapers and television. | |
| | Nobel laureate Toshihide Masukawa speaks during the Inaugural Ceremony held at the Kyoto University Clock Tower Building. |
Among the officials performing the cutting of the ribbon were Toichi Sakata, Administrative Vice Minister of MEXT, Kyoto University President Hiroshi Matsumoto, and CiRA Director Shinya Yamanaka.
During the day, the invited guests explored the insides of the new building and had a chance to meet with the CiRA scientists learning from them a great deal about CiRA and iPS cell research. The cell processing center, a facility to generate clinical-grade cells, was also introduced to the press and invited special guests.
| | |
| --- | --- |
| | |
| Assistant Professor Megumu Saito explains journalists about cell culturing at a laboratory on the 3rd floor of the CiRA building. | A CiRA faculty member shows a participant a panel showing the method of generating iPS cells. |
The opening day was concluded with the Inaugural Ceremony and a reception at the famous Kyoto Clock Tower building where the guests enjoyed a banquet of traditional Japanese delights.
Director Yamanaka expressed his gratitude to those who have supported CiRA to build the new facilities thus advancing the iPS cell research field.
"Today I would like to thank people who helped us come this far. As this Institute is called the Center for iPS Cell Research and Application, our mission will be fulfilled with the realization of applying iPS cell technology (to development of new cures for various diseases). Now comes the difficult part on whether we can become of significant help to patients and their families. All faculty members at CiRA have renewed our determination to meet expectations of a lot of people."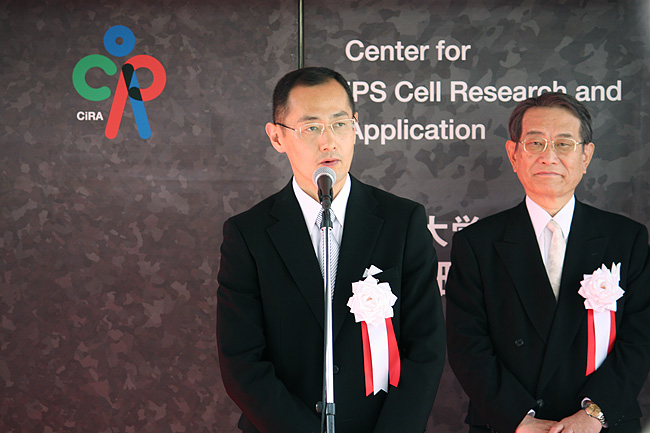 Director Shinya Yamanaka gives a speech during the ribbon-cutting ceremony.