News and Events
News and Events
News
November 20, 2017
CiRA International Symposium 2017
For the last several years, CiRA has organized international symposia that bring leading stem cell scientists to Japan.

That is why he has made these symposia a high priority. Their significance is seen in the partners with which CiRA runs the events. In 2016, CiRA jointly hosted with the International Society for Stem Cell Research in the city of Kyoto, and the year before with Takeda Science Foundation in Suita, Osaka Prefecture.

The most recent CiRA International Symposium, "A Decade of Human iPSCs: From Bench to Bedside," took place on November 6-8 near Heian Shrine in Kyoto's Sakyo Ward. About 500 researchers from academia and the private sector took part in the event with five sessions, 90 poster presentations and networking programs.

Talks were divided into the study of pluripotency, disease modeling with stem cells, regenerative medicine, new stem cell technologies, and finally the preparation of stem cell lines for clinical application.

In total, 21 scientists spoke about their work including seven from CiRA and 11 from overseas. Professor Austin Smith of the Welcome Trust MRC Cambridge Stem Cell Institute, and Professor Shinya Yamanaka, director of CiRA, gave key note speeches.

Among other speakers at the symposium was Dr. Juan Carlos Izpisua Belmonte of the Salk Institute for Biological Studies, who has made arguably the biggest splash in stem cell news this year with his reports about growing xeno organs in mice and rats and about gene editing the human embryo.

Dr. Kazutoshi Takahashi, who first authored the original iPS cell papers a decade ago as a graduate student in the Yamanaka lab, also spoke as a representative of the Gladstone Institutes where he now works.

Taking advantage of the long list of elite stem cell scientists coming to Kyoto, CiRA followed the symposium with a retreat. Most of the symposium speakers attended the closed event, at which CiRA students had an opportunity to discuss their research and receive feedback.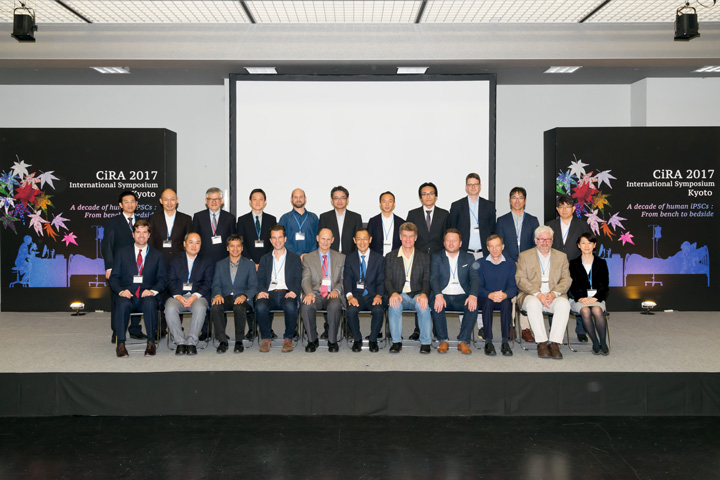 Symposium speakers