News and Events
News and Events
News
February 28, 2017
iPSC-derived Platelet Project at CiRA
Main points:
The use of immortalized megakaryocytes as master cells.
The megakaryocytes are being developed using iPS cells from the iPS cell stock at CiRA.
The selection of iPS cells from the iPS cell stock and related quality control tests are estimated to take two years.
The time to commence the first clinical trial is undecided.
Current Update:
Professor Koji Eto is leading a group at CiRA that is applying iPS cell technology to the creation of new blood transfusion products for clinical use. This work is done with the support of Japan Agency for Medical Research and Development (AMED).

The specific project entails the preparation of platelets from iPS cells stored at the iPS Cell Stock for Regenerative Medicine and used for patients who require regular platelet transfusions.

One transfusion product provides 200 billion platelets to the patient. The Eto group aims to prepare this number of cells not directly from iPS cells, but rather through megakaryocyte cell lines. Megakaryocytes are the progenitors of platelets, and the cell lines will be prepared from iPS cells. The production of platelets from megakaryocyte cell lines instead of iPS cells shortens the preparation time.

The lab has already established technology that produces a high number of platelet cells and also megakaryocyte cell lines that act as master cells for the platelets. The megakaryocytic lines were produced using iPS cells from the iPS cell stock. The iPS cells came from umbilical cord blood. In January 2017, however, the umbilical cord blood derived iPS cells for clinical purposes were halted. Therefore, the group needs a new megakaryocyte cell line using different iPS cells for clinical use.

Although the technology to create this line already exists, it is estimated that it will take two years to pass the rigorous quality control.
Future plans:
Selection of a new iPS cell line and preparation of a master megakaryocyte cell line
↓
Quality control tests
↓
Review by the Kyoto University Institutional Review Board
↓
Submission of proposal to the Minister of Health, Labour and Welfare through PMDA
(Pharmaceuticals and Medical Devices Agency)
↓
Patient recruitment
↓
Patient transfusions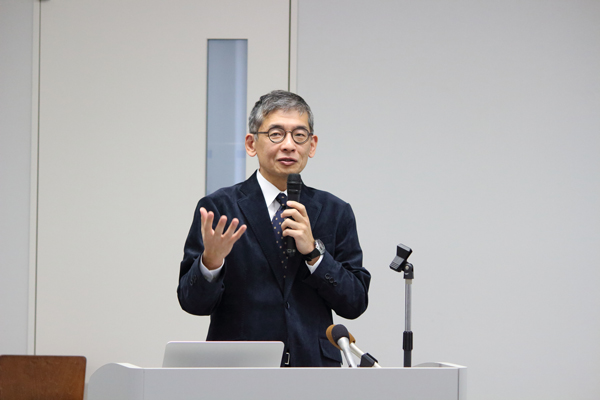 Professor Koji Eto