News and Events
News and Events
Home
 › 
News and Events
 › 
2011
 › Others › CiRA Director Shinya Yamanaka wins the 2010 BBVA Frontiers of Knowledge Award in Biomedicine
News
February 04, 2011
CiRA Director Shinya Yamanaka wins the 2010 BBVA Frontiers of Knowledge Award in Biomedicine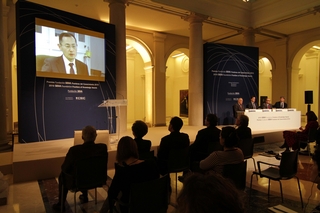 The BBVA Foundation based in Madrid, Spain, has announced that Dr. Shinya Yamanaka will be awarded the BBVA Foundation Frontiers of Knowledge Award in Biomedicine category for the achievement of cell reprogramming.
Dr. Yamanaka showed that it is possible to reprogram differentiated cells back into a pluripotent state, according to the BBVA jury. He reported in 2006 the generation of induced pluripotent stem (iPS) cells by introducing four genes into mouse skin cells. iPS cells are expected to be used for disease modeling, drug discovery and development and cell therapies in the future.
The BBVA Foundation Frontiers of Knowledge Awards honor world-class research and artistic creation across eight prize categories.
For details, please visit http://www.fbbva.es/TLFU/tlfu/ing/microsites/premios/fronteras/index.jsp#0