News and Events
News and Events
News
March 27, 2019
CiRA young researchers recognized for their work
CiRA announced its first CiRA Encouragement Award on March 26 in recognition of CiRA scientists under the age of 40 years old who made remarkable achievements to the life sciences. Four scientists shared the award, which was financed by the iPS Cell Research Fund.

The recipients are Drs. Sou Nakamura (Program-Specific Researcher, Department of Clinical Application), Atsutaka Minagawa (Program-Specific Researcher, Department of Cell Growth and Differentiation), Huaigeng Xu (Ph.D. Student, Department of Clinical Application) and Bo Wang (Researcher, Department of Cell Growth and Differentiation).

Dr. Nakamura reported in a Cell paper in 2018 that turbulence makes a significant contribution to platelet production. As one of the two first authors of the paper, "Turbulence activates platelet biogenesis to enable clinical scale manufacturing from human induced pluripotent stem cells," he was appraised for the development of bioreactor technology that improved the feasibility of a clinical study using iPS cell-derived platelets.

Dr. Minagawa found that modification of a single gene in T cell-derived iPS cells enhances the anti-cancer properties of the cells. The study "Enhancing T Cell Receptor Stability in Rejuvenated iPSC-Derived T Cells Improves Their Use in Cancer Immunotherapy," was published in the journal Cell Stem Cell in 2018. The work is expected to contribute to further research of cancer immunotherapy using iPS cells and eventually lead to clinical applications.

Drs. Xu and Wang published a paper, "Targeted Disruption of HLA Genes by Genome Editing for Next Generation iPS Cells," in Cell Stem Cell in 2019, as co-first authors. Donor-patient matching of HLA types is necessary before using any cell therapy. They showed that the probability of matching can be significantly raised by genetically modifying iPS cells with CRISPR-Cas9 technology. The discovery was highly rated for proving the potential of stockpiling HLA-C retained iPS cells for transplantation use.

In the award ceremony, CiRA Director Shinya Yamanaka praised the four scientists for their work.

"CiRA's iPS Cell Research Fund is used for education of young researchers. Respecting wishes of many donors, as the first CiRA Encouragement awardees, I hope the four researchers will continue to work for further successes and lead the field of life science research," he said.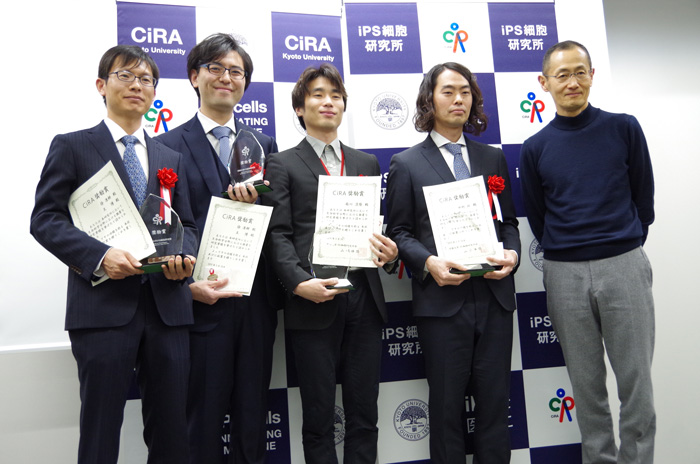 Photo: (from left) Bo Wang, Huaigeng Xu, Atsutaka Minagawa,
Sou Nakamura, and Shinya Yamanaka.