Research Activities
Research Activities
Publications
December 01, 2017
High throughput drug screening to treat muscular dystrophy patients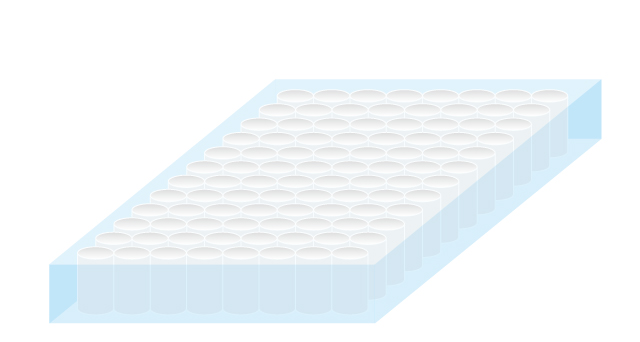 A new protocol for the differentiation of iPS cells to myocytes is applicable to
high-throughput screening using 96-well plates.
CiRA scientists present a new protocol that improves the survival of stem cell-derived muscle cells for drug screening.
The advent of patient iPSCs has opened the door to a new frontier of personalized medicine. High throughput screening, which greatly lowers the cost and labor of drug discovery, can be done using cells differentiated from patient iPSCs to evaluate experimental compounds. However, some cell types derived from the patient iPS cells, such as muscle cells, fail to survive in the high throughput screening process. A new protocol by CiRA Associate Professor Hidetoshi Sakurai and his team uses "replating" to present a solution to this problem. The protocol was confirmed by preparing muscle cells from the iPSCs of a patient with muscular dystrophy.

High throughput screening involves the culturing of cells on plates of several dozen or hundred wells. This setup allows a number of experimental drugs and doses to be tested on the cells at one time. According to Dr. Tomoya Uchimura, a post-doctoral scientist in the lab who designed the protocol, the differentiation of stem cells to muscles is not compatible with high throughput screening.

"Cells suffer from variability of wells and edge effects like evaporation. Certain steps of the differentiation protocol are affected by edge effects," he said.

In standard protocols, iPS cells are kept in 96-well plates throughout the differentiation process. Uchimura found that by first placing the iPS cells in a large dish and then moving them to 96-well or even 384-well plates midway in the differentiation protocol (i.e. replating), a much larger number of myogenic differentiated cells differentiated to myogenic lineage survived.

"I am not 100% sure why, but my assumption is that proliferation might be largely affected by variability of wells or edge effects in small wells," he said, adding that iPS cell proliferation is a first step to any differentiation procedure.

Importantly, besides enhancing survival, Uchimura found less variability between cell populations in different wells, making it easier to compare the effects of the drug and dose.
Paper Details
Journal: Stem Cell Research
Title: A human iPS myogenic differentiation system permitting high-throughput drug screening
Authors: Tomoya Uchimura1, Jun Otomo1, Masae Sato1, and Hidetoshi Sakurai1
Author Affiliations:

Center for iPS Cell Research and Application (CiRA), Kyoto University, Kyoto 606-8507, Japan