Research Activities
Research Activities
Publications
March 02, 2017
New drug for the prevention of bleeding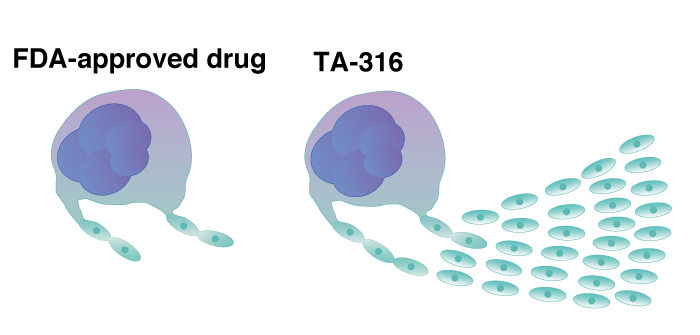 The Koji Eto lab reports a new drug
that enhances the production of platelets from iPS cells.
Platelet therapies depend on blood donations, but many countries are realizing this dependency is unsustainable. In Japan, it has been estimated that there will be a crippling undersupply of platelet donors in less than a generation. CiRA Professor Koji Eto and his team have been developing an iPS cell-based system that produces platelets independent of donors. In their latest work, they describe a new drug, TA-316, that enhances the production of platelets from iPS cells and brings this form of treatment closer to the clinic.

"There is an urgent need for systems that are independent of donors. The Japanese Red Cross Society estimates Japan will have an undersupply of 20%," says Eto. "But platelets cannot be stored for more than a week. We are preparing immortalized megakaryocyte progenitors [from iPS cells] that produce platelets and can be stored for more than half a year."

Megakaryocytes are the cells responsible for producing platelets, and one megakaryocyte can make over 1,000 platelets in the body. However, in the lab, this number drops precipitously to just 10 or so. One reason is TPO.

A cousin to EPO, the renown performance enhancing drug that increases the number of red blood cells, TPO is the hormone most responsible for stimulating megakaryocytes to produce platelets.

"Many drugs that target the TPO receptor have been made," says Eto, "but they are not good enough."

There are several drugs approved for clinical use to counter low platelet count. Among these drugs, Eto and his group compared TA-316 with the one it most resembled structurally, Eltrombopag, finding TA-316 was superior in two ways. First, it enhances the number of immortalized megakaryocyte progenitors made from iPS cells, but this effect was relatively mild, as it only doubled the amount of progenitors compared with Eltrombopag. Second, and more significant, was that it was ten times more productive at producing platelets from a single megakaryocyte compared with the approved drug.

Furthermore, their findings indicated that the effect could be synergized by combining it with other drugs that enhance platelet levels through systems independent of the TPO receptor.

Along with improving platelet numbers, Eto is excited that TA-316 will reveal how platelets form, saying, "Many factors determine platelets. We can use TA-316 to study these factors and diseases."
Paper Details
Journal: Blood Advances
Title: Novel TPO receptor agonist TA-316 contribute to platelet biogenesis from human iPS cells
Authors: Ayako Aihara1, Tomo Koike2, Natsuki Abe1, Sou Nakamura2, Akira Sawaguchi3, Takanori Nakamura1, Naoshi Sugimoto2, Hiromitsu Nakauchi4, Taito Nishino1 and Koji Eto2,5
Author Affiliations:

Biological Research Laboratories, Nissan Chemical Industries Ltd. Saitama, Japan
Center for iPS Cell Research and Application (CiRA), Kyoto University, Kyoto, Japan
Department of Anatomy, Miyazaki University Faculty of Medicine, Miyazaki, Japan
Center for Stem Cell Biology and Regenerative Medicine, Institute of Medical Science, University of Tokyo, Tokyo, Japan
Department of Regenerative Medicine, Chiba University Graduate School of Medicine, Chiba, Japan