Research Activities
Research Activities
Publications
November 02, 2018
A new drug candidate for a rare bone disease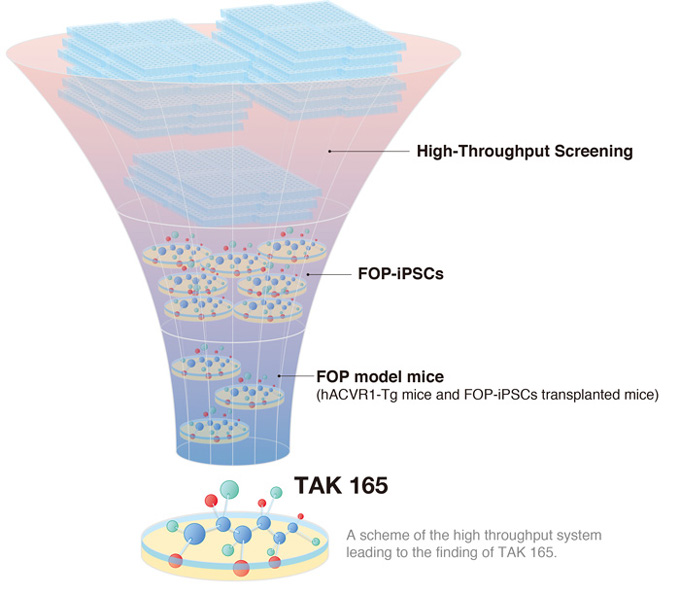 CiRA researchers use iPS cells from fibrodysplasia ossifican progressiva patients to find a new drug candidate for the disease.
A new study led by CiRA Associate Professor Makoto Ikeya shows how iPS cells could be used in drug screenings to treat rare diseases. As proof, the scientists found three drug candidates for fibrodysplasia ossificans progressiva (FOP), a disease in which bones are formed in soft tissue like muscle. Among the three, one operated through an unknown molecular pathway, suggesting that the combination of iPS cells and drug screening could also reveal new understanding on how diseases develop.

For many rare diseases, the lack of patients not only discourages companies from researching new drugs but also discourages scientists from researching how the disease forms. iPS cells have gotten around this second problem, as scientists can generate the diseased cells and study them at multiple stages of the disease development. Such is the case with FOP, for which only a few thousand patients worldwide been reported worldwide.

"Our iPS cell studies on FOP have revealed a drug candidate and new molecular mechanism that has led to a clinical trial," says Ikeya.

Indeed, last year, he and CiRA Professor Junya Toguchida announced a clinical trial for rapamycin, a drug commonly used to suppress the immune system, to treat FOP patients. That announcement was based on years of studies using FOP patient-derived iPS cells.

"Dysregulation of two molecular pathways are thought to cause FOP, BMP signaling and TFGβ signaling. We discovered dysregulated mTOR signaling can also be a cause," Ikeya continues.

That conclusion came from a drug screen that found rapamycin targeted mTOR in reprogrammed FOP patient cells.

In the newest study from the lab, Ikeya and his colleagues describe a high throughput drug screening system that found another candidate drug, TAK 165, which also acts on mTOR, but unlike rapamycin, the action is indirect. In addition, the screening found two other compounds that affected BMP and TFGβ signaling.

"We do not know what causes the abnormal bone growth in FOP," says Ikeya. "In some patients, it is caused by trauma, suggesting inflammation could be a factor. But in other patients, the bone growth starts without inflammation, suggesting another cause," Ikeya says.

FOP is a result of mutations in the ACVR1 gene. This gene is known to regulate BMP signaling, but the discovery that dysregulated mTOR signaling can also be a cause of the disease suggests that although all patients may share a common mutation, other factors that depend on the patient should also be considered.

Thus, while all patients may suffer from FOP, they may not all respond to the same drug. The discovery of new drug candidates using the drug screening described in the study suggests to Ikeya that by using iPS cells, researchers can stratify patients, grouping them based on how their reprogrammed cells respond to the drug candidate.

"Lots of money is spent testing drugs on patients who do not respond. By identifying which abnormal signaling causes the disease, we can stratify patients and test the drug candidate on the group most likely to respond positively. For the other group, we can use our drug screening to find other candidates," he says.
Paper Details
Journal: Stem Cell Reports
Title: An mTOR signaling modulator suppressed heterotopic ossification of fibrodysplasia ossificans progressiva
Authors: Kyosuke Hino1,2, Chengzhu Zhao1, Kazuhiko Horigome1,2, Megumi Nishio3, Yasue Okanishi1, Sanae Nagata1, Shingo Komura1,4, Yasuhiro Yamada1, Junya Toguchida1,5,6, Akira Ohta1, and Makoto Ikeya1
Author Affiliations:

Center for iPS Cell Research and Application (CiRA), Kyoto University, Kyoto, Japan
iPS Cell-Based Drug Discovery, Sumitomo Dainippon Pharma Co., Ltd., Osaka, Japan
Institute for Frontier Life and Medical Science, Kyoto University, Kyoto, Japan
Department of Orthopedic Surgery, Graduate School of Medicine, Gifu University, Gifu, Japan
Institute for Advancement of Clinical and Translational Science (iACT), Kyoto University Hospital, Kyoto, Japan
Department of Orthopedic Surgery, Graduate School of Medicine, Kyoto University, Kyoto, Japan