Research Activities
Research Activities
Publications
September 12, 2019
Dior and CiRA have started a collaborative research on the mechanism of skin metabolism
LVMH Recherche, on behalf of Dior, and the Center for iPS Cell Research and Application (CiRA), at Kyoto University, announced today the start of a collaborative research project exploring how oxidative metabolism affects skin keratinocyte self-renewal or differentiation capabilities.
Under the direction of CiRA director Shinya Yamanaka, winner of the 2012 Nobel Prize in Physiology or Medicine, CiRA is the leading centre for induced pluripotent stem (iPS) cell* research, conducting innovative research for medical applications such as regenerative medicine and drug development in order to develop new treatments. Part of their results have led to clinical trials for certain incurable illnesses such as Parkinson's disease and amyotrophic lateral sclerosis (ALS).

With a keen interest in the Dior scientists' latest discoveries in stem cells in the cutaneous domain, the CiRA laboratory, led by Associate Professor Knut Woltjen, will provide iPS cells from healthy, elderly donors and expertise in genome editing. This marks the first time that a CiRA laboratory has entered into a scientific partnership with a french luxury cosmetic house. LVMH Recherche and Kyoto University signed the contract for this collaborative project in April.

This is a major sign of recognition for Dior Science, which now has 20 years' experience in stem cell research, giving rise to 17 discoveries in the cutaneous domain and some 55 publications, as well as several academic partnerships. Inspired by Professor Yamanaka's discovery of reprogramming adult cells into stem cells, Dior Science recently made successful progress that opens new doors to better understand the transformation of stem cells with age.

For this new research project started between Dior Science at LVMH Recherche and the Woltjen laboratory at CiRA, the effects of age on mitochondrial status, skin regeneration and differentiation will be investigated, with the hope of contributing to major therapeutic discoveries in the skin and cutaneous rejuvenation.
About LVMH Recherche
LVMH Recherche is the research and innovation division of the LVMH group. On behalf of Parfums Christian Dior it carries out, all the research, development and innovation activities for Christian Dior cosmetic products.
* Induced pluripotent stem (iPS) cells:
The cells generated by introducing a small number of factors into body cells such as skin cells and blood cells. iPS cells can be converted into any type of cell in the body and proliferate indefinitely in culture.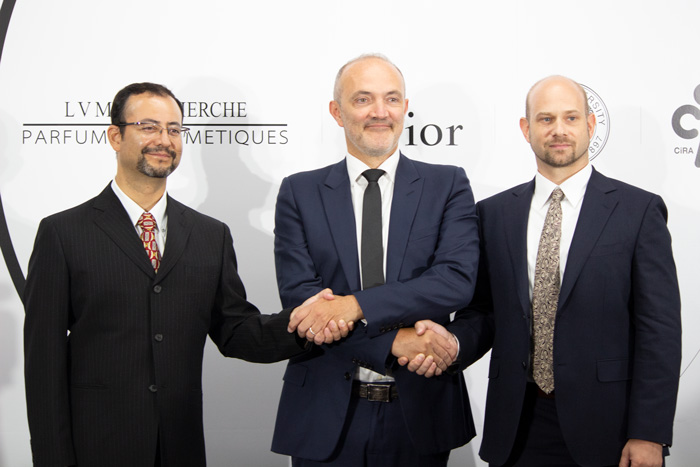 (From left) Dr. Jose Fabian Oceguera-Yanez(CiRA), Dr. Bruno Bavouzet (LVMH Recherche),
Dr. Knut Woltjen (CiRA)