Research Activities
Research Activities
Principal Investigators
Dept. of Life Science Frontiers 
Keisuke Okita (Junior Associate Professor)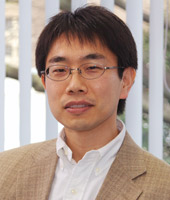 Keisuke Okita Ph.D.
Contact: okita-g*cira.kyoto-u.ac.jp

Please change * to @
Research Overview
Methods for the generation of induced pluripotent stem (iPS) cells remain at a developmental stage.
The reprogramming factor c-Myc is known as an oncogene, leading to safety concerns for iPS cells generated using retroviral vectors carrying this gene. Other methods, such as the use of adenovial vectors, or direct transfection with proteins, are now under consideration, but it is already known that the properties of iPS cells generated through these approaches differ slightly from those created by the retroviral method. Recent research has begun to reveal differences between iPS cells and ES cells, indicating that reprogramming of the somatic nucleus may still remain incomplete.
An understanding of the underlying mechanisms will be critical to achieving complete cellular reprogramming.
By analyzing the iPS induction process in detail, we seek to discover why such differences emerge, and to gain insights into methods capable of generating optimally safe iPS cell lines.