Research Activities
Research Activities
Principal Investigators
Dept. of Life Science Frontiers 
Keisuke Okita (Junior Associate Professor)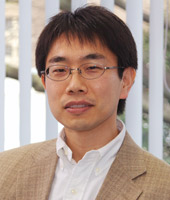 Keisuke Okita Ph.D.
Contact: okita-g*cira.kyoto-u.ac.jp

Please change * to @
Research Overview
Our laboratory engages in research on three main themes relating to iPS cells.

Analysis of the reprogramming mechanism
We still do not have a full picture of why it is possible to create iPS cells. Our laboratory is investigating the associated mechanism by searching for genes that affect generation efficiency. We have explored over 2,200 genes and are undertaking detailed analysis of those that prove to be of interest.

Unlocking the origin of cells
The generation of iPS cells has shown once again that cell fate is determined by a small number of transcription factors, and also that cell properties can be artificially manipulated. By applying iPS cell-related technologies and knowledge, we are approaching an understanding of the fundamentals of how cells are in their state.

Application to animals
iPS cells have been produced not just from humans and mice, but also dogs, cats, and many other animals. Using animal-derived and human iPS cells, it is possible to study species differences and the significance of evolution at cellular level. These cells may also be useful in the preservation of endangered species. We study the generation of animal iPS cells, which is the starting point of such research.