News and Events
News and Events
News
April 05, 2018
CiRA researchers organize iPSC Keystone Meeting
CiRA Director Shinya Yamanaka, CiRA Prof. Haruhisa Inoue and Prof. Yanhong Shi from the Beckman Research Institute of City of Hope served as organizers of the 2018 Keystone meeting entitled "iPSCs: A Decade of Progress and Beyond," which was held at the Resort at Squaw Creek in Olympic Valley, California, USA, from March 25 to March 29, 2018. The aims of the meeting focused on the utilization of induced pluripotent stem cell technology for disease modeling, drug discovery, and regenerative medicine.

Yamanaka gave the keynote address entitled "iPSC Technology: The Past, Present and Future." He reflected on his initial discovery of iPSCs over 10 years ago and highlighted how recent advancements in methods to safely reprogram iPSCs have reduced the risk of tumorigenicity.

In addition, Yamanaka discussed the efforts being made in Japan to create iPSC stocks that would cover at least 50% of the Japanese population, as well as ongoing clinical trials using iPSC-differentiated retinal pigment epithelial cells to treat age-related macular degeneration.

He also highlighted a drug screening effort using patient-derived iPSCs which has led to the discovery of a drug candidate for treating a rare bone disease called fibrodysplasia ossifican progressiva.

He closed his talk by commenting that although the future of iPSCs is still a "mystery," he believes that organ generation, in vivo reprogramming, infertility treatment and personalized medicine will become important issues later on.

Other CiRA members were also present, including Inoue who gave a presentation about repurposing FDA approved drugs for treating neurological diseases such as Alzheimer's, and Prof. Misao Fujita who discussed the ethical, legal, and social issues centered on the use of chimeras for growing human organs in animals.

The meeting was sponsored by CIRM (California Institute for Regenerative Medicine) and Cell Research, a scientific journal published by the Nature Publishing Group.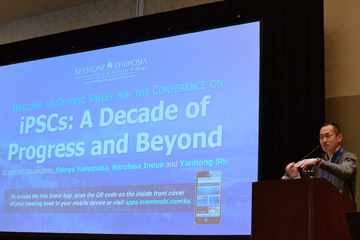 Prof. Shinya Yamanaka speaks at the meeting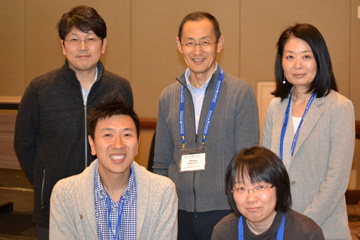 CiRA researchers attend the Keystone Meeting (From left) Haruhisa Inoue, Peter David Gee,
Shinya Yamanaka, Keiko Imamura
and Misao Fujita